Thanksgiving is a time for family, friends, and feasting. And what better place to celebrate this special holiday than in Boston, a city steeped in history and brimming with festive spirit? From traditional turkey dinners to unique cultural experiences, Boston offers a wealth of options for making your Thanksgiving weekend unforgettable.
Top 5 Thanksgiving events in Boston
Franklin Park Coalition Turkey Trot: Kick off your Thanksgiving morning with a healthy dose of exercise at the 9th Annual Turkey Trot 5K. This family-friendly race is open to runners and walkers of all ages and paces, and there are even awards for the best costumes.
Macy's Thanksgiving Day Parade: No Thanksgiving would be complete without watching the iconic Macy's Thanksgiving Day Parade. This beloved tradition features giant balloons, marching bands, and of course, Santa Claus.
National Dog Show: Looking for something a little furrier? Tune in to the National Dog Show to watch the best-in-show competition and cheer on your favorite canine companions.
Plimouth Plantation: Immerse yourself in history at Plimoth Plantation, a living museum that recreates the lives of the Pilgrims and Wampanoag people.
Ski Resorts Open on Thanksgiving Weekend: If you're looking for a more active getaway, head to one of Boston's many ski resorts, which typically open for the season on Thanksgiving weekend.
Other Thanksgiving events and things to do in Boston
Boston Museums Open on Thanksgiving Weekend:
Many of Boston's museums are open on Thanksgiving weekend, making it a great time to explore the city's rich cultural offerings and immerse yourself in the diverse tapestry of art, history, and innovation that defines this vibrant metropolis. Whether you're drawn to world-class exhibits, interactive displays, or captivating performances, the holiday weekend provides an ideal opportunity to delve into the heart of Boston's cultural scene while creating lasting memories with family and friends.
Suggested Read- Top New Restaurants And Cafes Opening In Boston
The Nutcracker at the Boston Opera House:
Get into the holiday spirit with a magical performance of The Nutcracker at the historic Boston Opera House. Transport yourself to a whimsical world filled with enchanting ballet, dazzling costumes, and Tchaikovsky's iconic score as you witness the timeless tale come to life on stage. The Nutcracker at the Boston Opera House is a cherished tradition that promises to captivate audiences of all ages, creating cherished memories and infusing the festive season with the spirit of wonder and jo
Boston Concerts and Theater during Thanksgiving Week:
Enhance your Thanksgiving week experience by indulging in the rich cultural tapestry of live entertainment – whether it's a soul-stirring concert or a captivating theater performance. With an array of shows to choose from, Boston's vibrant arts scene ensures there's something for every taste. Immerse yourself in the spellbinding melodies of a live concert or be transported to different worlds through the compelling narratives of theater production.
Thanksgiving Dinners in Boston:
If the thought of cooking on Thanksgiving feels overwhelming or you simply want to savor the holiday without the fuss, Boston has you covered with an abundance of restaurants that offer delightful Thanksgiving dinners. Relinquish the stress of kitchen duties and treat yourself to a delectable feast prepared by skilled chefs, allowing you to savor the flavors of the season in a cozy and festive atmosphere. From traditional turkey dinners with all the trimmings to innovative and globally-inspired culinary creations, Boston's diverse dining scene ensures that there's a Thanksgiving meal to suit every palate.
Black Friday Shopping:
Kick off your holiday shopping extravaganza with a thrilling excursion to one of Boston's bustling Black Friday sales. As the city comes alive with the spirit of savings, you'll have the chance to snag incredible deals and discover the perfect gifts for everyone on your list. Whether you prefer exploring the iconic shopping districts, uncovering hidden gems in boutique stores, or taking advantage of major retail outlets, Boston's diverse shopping scene ensures a variety of options to suit your style and preferences.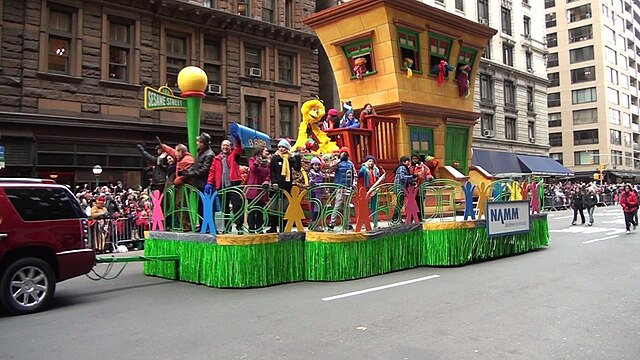 Image Credits- Macy's Thanksgiving Parade
Tips for planning your Thanksgiving weekend in Boston
Book your accommodations early:
Hotels in Boston tend to fill up quickly around Thanksgiving, so it's important to book your accommodations early to ensure you secure the best rates and availability during this popular travel season.
Make restaurant reservations:
If you're planning on eating out for Thanksgiving dinner, make sure to make reservations in advance to guarantee a spot at your preferred restaurant and to avoid the disappointment of limited availability during this festive and busy time of the year.
Allow extra time for travel:
The roads can be congested around Thanksgiving, so it's advisable to allow extra time for travel, enabling you to navigate through potential traffic delays and reach your destination comfortably and stress-free during this peak travel period.
Dress warmly:
The weather in Boston can be unpredictable in November, so it's essential to pack warm clothes to ensure you're prepared for any sudden temperature drops or unexpected chilly days, allowing you to stay comfortable and enjoy your time in the city regardless of the weather fluctuations.
Be prepared for crowds:
Boston is a popular tourist destination, so be prepared for crowds, especially at popular attractions. Consider planning your visits during off-peak hours to enhance your overall experience and avoid long lines, allowing you to explore the city's renowned landmarks with greater ease and enjoyment.
With its rich history, festive atmosphere, and variety of activities, Boston is the perfect place to celebrate Thanksgiving. Whether you're looking for traditional holiday experiences or unique cultural attractions, you're sure to find something to enjoy in this vibrant city.
Seamless Thanksgiving Travel with Boston Airport Shuttle: Your Premier Choice for Stress-Free Transportation
Experience stress-free travel this Thanksgiving with Boston Airport Shuttle, your premier choice for airport shuttle service in the city. Our dedicated team understands the importance of timely and reliable transportation, especially during the holiday rush, and we pride ourselves on delivering exceptional service. Enjoy the convenience of door-to-door transfers, allowing you to focus on creating cherished memories with loved ones rather than navigating through traffic or worrying about parking. 
Our fleet of well-maintained vehicles, driven by professional and courteous chauffeurs, ensures a comfortable and secure journey. With Boston Airport Shuttle, you can relax and revel in the holiday spirit, knowing that your transportation needs are in expert hands. Choose the best – choose Boston Airport Shuttle for a seamless and enjoyable Thanksgiving travel experience.
Image Credits- Macy's Thanksgiving Parade