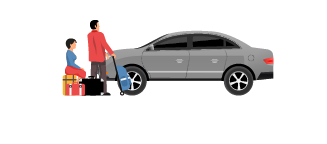 Airport Shuttle Boston -Affordable Boston to New York Taxi and Car Service

Boston Airport Shuttle affordable Low Cost Boston to New York Taxi and Car Service,brings to you express and non-stop airport shuttle service from various places in Massachusetts to Logan international airport, Manchester Airport (NH), JFK and La Guardia airports in New York, Rhode Island airport, Bradley and Bedford Airports. Whether you need a ride from the airport to your home / office / hotel / tour destination or vice versa Boston Airport Shuttle is your answer to all ground transportation problems in Boston and Massachusetts area.
We also have long distance shuttle services like the following
Boston - New York airport shuttle
Boston – Newport taxi and shuttle,
Boston To Portland Shuttle Service
Boston – Manchester Shuttle
And much more.
Cross state airport to airport or transportation from your location to destination is also available on request. You can still make an online reservation in 4 easy steps and paying just $1 and we make sure your transportation needs are taken care of.
Shuttle service in Boston Neighbourhood - Popular Cities