Airport Shuttle Services to Logan Airport Including Child Seats
Trying to find the best Airport Shuttle services? Well, you should probably try out the services of Boston Airport Express. We are the leading cab company in the Boston region, delivering amazing travel services. Our awesome shuttle services, trusted in the entire Boston area are sure to treat you to a comfortable and convenient travel at relatively affordable rates.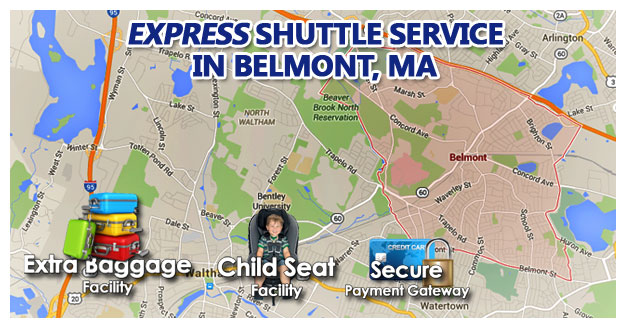 The fact that we bring our pick up and drop off services right to your doorstep has given us the leads over most of our competitors. Many also deem our airport shuttle services convenient courtesy of the fact that we offer services all round the clock. You therefore do not have to depend on shuttle availability.
The regular Boston car services that we offer are a great option for individuals seeking a private travel. Our Belmont Airport Shuttle Services are used by a wide variety of travellers from students, to families all through to the international travellers who bring along a few extra luggages.
Rather than the shuttles, a business person who would like to travel privately to an appointment should try out the cars that we offer. Our services cater even for families travelling with little kids as we also provide infant seats for a smooth and safe travel.
Belmont has got quite a number of sightseeing features. It is also home to several professionals and students. Boston Airport Express is dedicated to seeing to it that all the visitors and residents have a wonderful experience of the city. We do this by facilitating a comfortable and convenient travel.
Our Shuttle and Cab services are also available on these cities:
Affordable cab service in Melrose,MA
Quincy,MA taxi to Boston airport
Cambridge,MA to Logan airport taxi service
Cab services in Rhode Island,MA