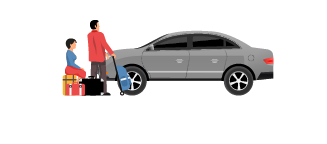 Boston Airport Shuttle Rates | Calculate Your Shuttle Fare

Get flat rate Boston Airport shuttle fares from different part of Boston and Massachusetts to Logan International Airport. Please note that this is only airport drop charge, prices for Airport pickup may vary. Waiting charges for flight delays may also be applicable.
We have included a gratuity of 20% and an airport toll tax of 8.5 USD in the flat rate fares mentioned below.
If your place is not listed in the fare chart / infographic above please use the reservation form to get a fare estimate from your exact location. The fares here are for reference purpose only, actual fares may be slightly different based on other factors like holiday / rush hour surcharge, night charges etc. So please consider them and be realistic in your expectations. In most situations, however, honor the Flat rate fares listed above.
| City | Flat Rate to Logan Airport | | City | Flat Rate to Logan Airport |
| --- | --- | --- | --- | --- |
| Allston, MA | $40.00 | | Brookline, MA | $45.00 |
| Newton, MA | $55.00 | | Burlington, MA | $65.00 |
| Cambridge, MA | $44.00 | | Woburn, MA | $60.00 |
| Watertoen, MA | $54.00 | | Malden, MA | $50.00 |
| Waltham, MA | $65.00 | | Medford, MA | $45.00 |
| Belmont, MA | $50.00 | | Somerlville, MA | $40.00 |
| Arlington, MA | $50.00 | | Weston, MA | $65.00 |
| Lexington, MA | $70.00 | | Bedford, MA | $75.00 |
| Brookline, MA | $45.00 | | Brighton, MA | $47.00 |
Shuttle service in Boston Neighbourhood - Popular Cities