Reliable Airport Transportation & Private Airport Shuttle Services from Nashua, New Hampshire to Boston Logan Airport & Massachusetts with Child Seats, Extra Luggage, and proper covid19 safety practices.
If you seek private ground transportation instead of public shuttle services, trains, etc for a flight from Boston Logan Airport then bostonairportshuttle.com is your best option. If you are traveling with family and have kids and extra suitcases with you then consider booking one of our luxury minivans. It also works well for student groups and small business trips. Just pay $1 and confirm your reservation.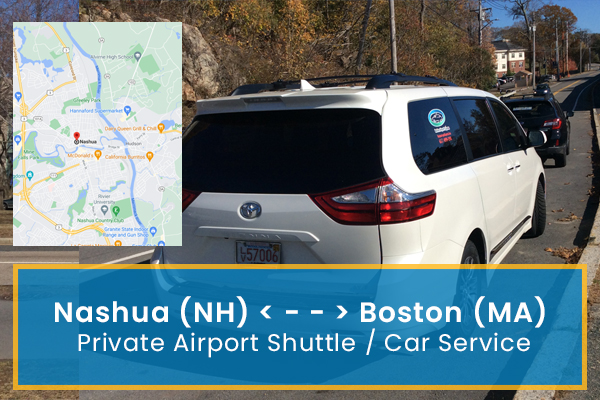 Highlights of Nashua to Boston Airport Transportation; Professional Car Service, and Private Shuttle.
Private & Comfortable Luxury Minivans and Sedans for Family and Office use.
Covid Safety Practices are followed strictly.
Age Appropriate Child Seats on demand.
Extra Luggage Space and Spacious Vehicles
Heated Leather Seats and All-weather luxury upholstery.
Experienced, Caring, Handpicked drivers with over 10 years of experience.
Popular Travel Requirements between Nashua, NH, and Boston, MA
Though Nashua Regional Airport is available, many people prefer to take a chauffeured ride from Nashua to Logan Airport or vice versa. People with hectic international flights and heavy luggage or families with kids often avoid waiting for another connecting flight to Nahua and rather seek a comfortable ride to their homes. This is where our Minivans with Baby seats are popular.
Car Service for Tourist Activities and Vacation goers
Many Nashua travelers seek vacations in Cape Cod, Nantucket, Martha's Vineyard etc. We have regular passengers from Mine Falls Park, River University, Hudson, Burlington(NH), Fields grove etc. Most of the traffic happens in Summer Vacation time. Manchester to Massachusetts Car service along with Nashua traffic makes up about 80 percent of our trips from NH.
Professional Chauffeured Business Travel between Boston(MA) and Manchester(NH)
Nashua is a preferred living place for many foreign professionals who have marketing jobs for Clients in Massachusetts and New Hampshire. It is relatively cheaper and easy to cover the east coast of the USA staying in Nashua. Boston Airport Shuttle is a preferred travel partner for many companies in Boston and the greater Boston area. We provide Luxury Sedans and SUVs with outstanding service for your business travel requirements.